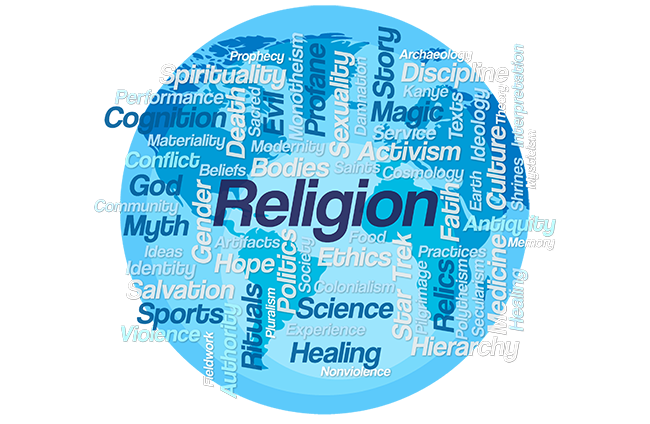 Religion is one fundamental way humans order and discern meaning and frame identity, both collective and individual. In the study of religion, students learn what religion is; how religion both shapes and reflects culture, society, politics, and individual experience; and the multiple ways religion matters and has mattered locally and globally, from antiquity to the present. Through the examination of varied disciplinary approaches and exposure to concrete diverse cultural expressions of religion, the department fosters students' broad and deep apprehension of religion's place(s) in human experience. The department's educational work aims to strengthen students' capacities to read carefully, question critically, communicate knowledge effectively, and apply their learning in civic engagement. ​
The University regards the academic study of religion as an integral part of liberal, humane learning and seeks to assist students in understanding the role religion plays in human existence and culture. Instruction in the Department of Religious Studies is non-sectarian and seeks an open analysis of all points of view. Courses are designed to provide a general orientation to the academic study of religion for the undergraduate student, as well as more advanced exposure for those who wish to pursue professional careers where a study of religious ideas and institutions would be helpful, such as in psychology, sociology, history, journalism, teaching, law, medicine, the fine arts, religious education, the ministry, and the rabbinate.
The Department sponsors a wide variety of speakers and events each year, including a Religious Studies Colloquium series and a Forum on Religion and Public Life. It has enriched the existing curriculum by bringing to the campus such outstanding scholars as Elizabeth Kuebler-Ross, Joachim Jeremias, Alvin Plantinga, Harry M. Orlinsky, Anson Rainey, Abraham J. Malherbe, Alan Segal, William May, Robert Segal, Douglas Allen, Marvin Sweeney, Martin Hengel, Martin E. Marty, Patricia Crone, Mark Juergensmeyer and Juergen Moltmann.