Kayla Haley Graduating Class '18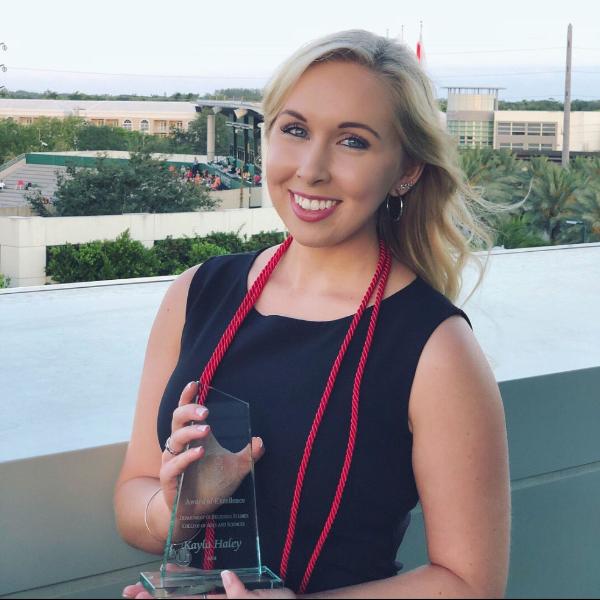 What will you be doing after graduation?
After graduation, the plan is to work in news production. I am so passionate about storytelling, but I want to remain behind the scenes and behind the camera, because it's what I love most.
What are your career goals?
Ultimately, I want to tell compelling stories. This can take on many forms including news and documentaries. Above all, I want my work to combine my love for visual journalism and Religious Studies to create content that touches lives, changes perspectives, and is a force for positive change in the world.
How did your work in the Religious Studies department contribute to your future path?
The Religious Studies department contributed to my future path in so many ways. The department equipped me with skills I will be taking into my future career including critical thinking, research and analysis, problem-solving, and relating to people from diverse backgrounds. All of these skills are important to have in any career, but especially journalism. With these skills I am able to find unique stories Additionally, the department connected me with people who encouraged and challenged me through this journey and who I will remain connected to long after graduation.
Tell us a little bit about how you put together the promotional video for the department: what were some favorite moments? Challenges? Insights?
Putting together the promotional video for the department was the perfect capstone for my undergraduate career at the University of Miami. In many ways, the video was also my thank you letter to the department that shaped and challenged me over the past four years. I loved telling the story of the department though students and professors. My favorite part was sitting down with each person and hearing their unique experiences and how the department has helped them grow. The most challenging part of the process, however, was editing down the interviews. I had so many great moments and quotes from everyone that it was a serious challenge when it came to editing. But, having so many great responses was also amazing because it gave me an insight into how the department has touched students from so many different areas of study and how applicable the courses are to these areas of study. Another favorite moment was sharing the finished video with everyone. It was a culmination of months of hard work and a truckload of heart. Seeing everyone enjoy it as much as I enjoyed making it was an experience I can't quite put into words.
Did you learn something new about our department you hadn't considered before?
Being a Religious Studies major myself, I didn't really expect to learn anything new about the department, but I did learn about the universal impact the department has on students. I'm not exaggerating when I say every single student I interviewed was thrilled to talk about their experience and how much they love the classes and the professors. I, of course, knew my own experience and the experience of my friends, but hearing students from diverse backgrounds and career interests talk about the department in the way that I talk about it was amazing. It was amazing to know how the department impacts so many different people and how it challenges us all in similar ways and how passionate everyone is about the study of religion.
What skills (e.g., critical thinking) did you learn from the study of religion that might help you in your studies/work as you move forward?
One of my favorite questions I am asked is "why did you major in Religious Studies?" In many ways, Religious Studies taught me more about being a successful journalist than some of my communications classes. In Religious Studies, I had to think critically, ask the hard questions, look at stories and history from a new perspective, and I learned about people and how their beliefs shape their actions and worldview. Religious Studies also taught me how to do deep research and fact-checking. These skills are the foundation of a good journalist and in my Religious Studies classes I learned how to take a mass of information and synthesize it into a coherent, fact-based piece of work. In majoring in Religious Studies, I feel I am more prepared not only to research and find important gems of information, but I am also more prepared when interviewing individuals from diverse backgrounds. Having a broad base of knowledge when it comes to religion and culture is extremely useful when relating to interviewees and when adding context and depth to a story.
What advice can you give to students who might be considering a Religious Studies major/minor?
To quote Nike: "Just Do It." No, seriously, majoring in Religious Studies was one of the best decisions I made during my time at the University of Miami. Not only were the classes interesting, but the skills and information learned in these classes are applicable to so many different careers. Classes aren't easy, you will be challenged, but you will also have a good time learning. Most of my favorite classes I took at the University of Miami were in the Religious Studies department. If you are even considering taking a class in the department, just do it! Studying religion is extremely useful and broadens your worldview and enhances your critical thinking skills. Which is what college is all about, right?
What is the one thing you will never forget about studying religion at UM? (a favorite memory, topic, reading, project)
The one thing I will never forget about studying religion at the University of Miami is the people. I learned so much from my professors and my classmates that challenged me to think in new ways and ask really difficult questions that sometimes didn't have a definitive answer. Sure, writing essays about Buffy the Vampire Slayer for multiple classes was fun and learning about religions I had no personal experience with was enlightening, but I will never forget the people. I will never forget the professors who encouraged me when I was having any trouble in a class and always went above and beyond for their students. I will always remember the classmates that challenged me to think differently and collaborated with me. The Religious Studies department gave me more than I ever imagined and this video is my big thank you and a big hug to the department that taught me about myself, the world around me, and connected me with some of the kindest people I have ever met. Thank you again to Dr. Walsh, Dr. Ritzinger and Dr. Kling for allowing me to tell the story of the Religious Studies department!